The sustainable steel construction for the Ecodome has been supplied by Imetaal Staalbouw.
The Ecodome is an innovative construction with a diameter of 21 meters and a height of ten meters and is full of all kinds of technical and 'natural' concepts that have been developed by TU Delft, among others. On the Ecodome there are moss panels made from seven types of moss. In the Ecodome there is a unique particulate filter, in the form of a pergola. This particulate filter ensures that 40,000 cubic meters of dirty air is cleaned per hour.
Rainwater is collected in and around the Ecodome and then turned into drinking water on the spot. And of course solar panels provide energy. The Ecodome has been in Amsterdam and is traveling all over the world. The Ecodome has been constructed in such a way that it can be moved and it is intended that it can be given a place anywhere in the world to inspire visitors to work with 'green' in a different way.Various reactions have shown that the Ecodome has hit the ministers. Martijn van Dam, State Secretary for Economic Affairs, for example, wrote; "The ecodome is an appealing design that illustrates the innovativeness of the Dutch agricultural sector. It looks beautiful and was greatly appreciated by those present".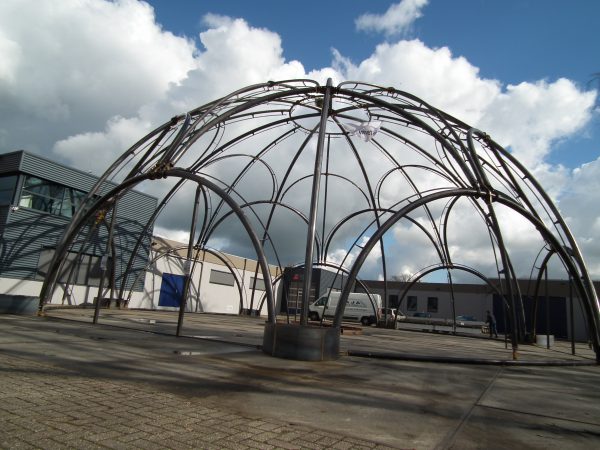 Item number 900424
Type
Category
Involved companies Imetaal Staalbouw